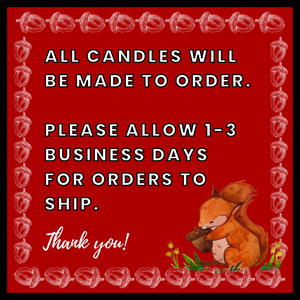 The More You Know
In an effort to ensure as much freshness as possible, we will now be making candles to order.
If there is a scent you would like to purchase but is not currently listed, please email us at nuthousecandleco@gmail.com and we will do a custom order for you.
Browse Current Scents
Mindfully Made in Small Batches
All of our candles are made using 100% all-natural soy wax. They are made in small batches, ensuring freshness and high quality. We create and print the labels ourselves, before cutting them by hand. We aim to be environmentally conscious and cost-effective by recycling and reusing as many used glass candle jars as possible.
Our Scents
We have a select variety of scents available on our website at any given time.
If there is a particular scent you are interested in, and you do not see it on our website, we can make that for you as a custom order.
Email us at nuthousecandleco@gmail.com with what you are looking for and we will work with you to create your ideal scent.